Air Force mulling offers from US, Russia, and France to counter China
As India tests many new missiles and technologies, multiple offers from many countries are considered for the 5G aircraft.
With the border standoff with China last year, India has been on a shopping spree accelerating the purchase of various equipment that it had not for two decades. One area where China has an advantage over India, at least on paper, is the number of active fighter jets in service. India announced its intent to purchase 114 heavy combat aircraft with Medium Multi-Role Combat Aircraft (MMRCA) capabilities valued at USD 18B— labelled as one of the world's largest military procurement in recent years. India will also be releasing a new Request for Proposal (RFP) for naval attack fighters.
The United States has been pitching the Boeing F-15EX fighter jet giving a tough competition to the Saab's Gripen, Russian Mig-35, Eurofighter Typhoon, and Dassault's Rafale. US Defence giant Lockheed Martin is also pitching the F-21 with an offer to manufacture the combat jet in India. Currently, India has Su-30MKI Flankers as its staple although it has procured 36 flight away condition Rafales— Dassault has delivered 11 and will deliver another 6 by end of March 2021. In a previous version of the tender, the Rafale was the favourite.
Aircrafts that are in contention for MMRCA tender
Six air forces in the world, including the Israeli Air Force and Japan Air Self-Defence Force, the F-15EX. Created first in 1972, it has since been upgraded with modern features withe 1198 of this family already shipped 32 variants. The EX variant is considered equivalent to 5th generation fighters featuring an advanced battle management system with various modular upgrades to increase survivability, availability and affordability. The USA has ordered 72 of this variant for its own use. The F-15 boats 100 victories in combat and no losses. The US Government has already approved the sale of this aircraft to India.
Boeing is looking to pitch the Block III F/A-18 Super Hornet for the Indian Navy. Recently, it successfully demonstrated its capability on Indian naval carriers by concluding the skip-jump test programme. This aircraft is the frontline aircraft of the US navy. Indian and US navies cooperating more and more in the Quad alliance (India, Japan, Australia, and the US with increased interest from France, UK, Germany, and others to join this grouping) to operate in the South China Sea to stare down an aggressive China and maintain peace in the Indian Ocean Region. Boeing feels there are collateral benefits if the Indian Navy also chooses this aircraft especially in the areas of cooperation in naval aviation, with the sharing of best practices in modern naval aviation systems, carrier integration know-how, services and training and weapon systems. The F/A-18 Super Hornet has the lowest operation and support cost of any tactical aircraft in the US military. The US Navy operates 600 F/A-18 Super Hornets and is also used by several other navies.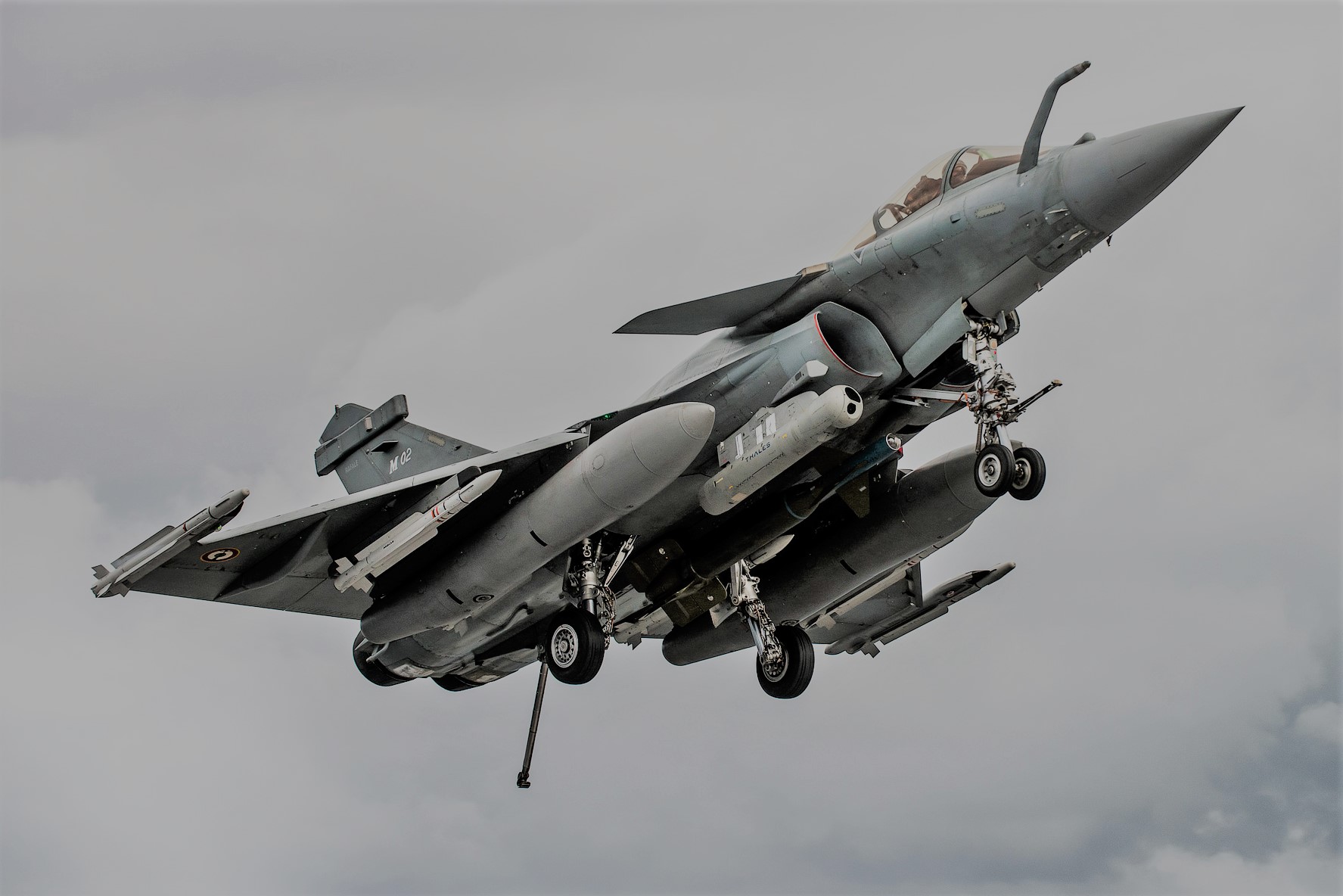 The French Rafale
India already possesses Boeing P-8I Multi-mission Maritime Patrol Aircraft replacing Russian Tupolev Tu-142 aircraft. India was the first customer outside the US Navy to own this variant of the P-8A Poseidon multi-mission maritime aircraft (MMA) operated by the US Navy. The first P-8I aircraft was delivered to the Indian Navy in December 2012 and the remaining aircraft were delivered between 2013 and 2015. In 2016, India ordered four additional planes and in 2019 an additional six. In December 2010, India requested a sale of AGM-84L Harpoon Block II anti-ship missiles and associated equipment to equip its P-8I aircraft. The Harpoon Block II carries a 226kg blast / fragmentation warhead. It can be fired against land and sea targets. The P-8I aircraft can fly at a maximum speed of 789km/h and can reach a maximum altitude of 12,496m. The aircraft has a maximum range of 2,222km with four hours on station.
In the recently concluded Aero India exhibition in February 2021 where Russian companies showcased more than 200 military hardware, including Su-35 fighters, MiG-35 fighters, helicopters Ka-52, Ka-226, Mi-17B-5, Mi-26, S-400 air defence systems. Russia also had on display a full-size model of the Su-57E stealth fighter trying to attract Indian attention to what it calls the "most advanced" combat jet.
Boeing P-8I Multi-mission Maritime Patrol Aircraft
Developed by Moscow-headquartered aerospace company, Sukhoi, the single-seat, twin-engine Su-57 multirole aircraft has been designed to destroy all types of air, ground, and naval targets. Sukhoi says that the aircraft has supercruise, supermanoeuvrability, along with advanced avionics surpassing the capabilities of the prior generation fighters. It is also considered to be a major competitor to the American stealth duo, American stealth duo, F-35 Lightning II and the F-22 Raptor. Using unique composite materials to avoid radar detection, this single-seat and the dual-engine jet has the most advanced radio-electronic equipment and can fly at supersonic speeds. Its onboard computer is so advanced that it is often called a second pilot and can carry hypersonic missiles. Recently, India successfully tested an indigenously developed hypersonic missile.
Rostec Director for International Cooperation and Regional Policy Viktor Kladov said that the SU-57E "evokes high interest in many countries because it features unique combat properties and flight characteristics."
Russian Su-57
India has a very large defence inventory from Russia and in recent years many new items are in the pipeline including the S-400 systems deliveries, AK-203 Kalashnikov's contract, Ka-226 helicopters supplies and production in India, as well as an advanced cooperation in the areas of combat aviation (including Su-30MKI), main battle tanks (T-90), frigates, submarines, and missiles, along with joint production of the unique Brahmos.
Pakistan, which views itself as an arch-enemy of India, has relied on a USD 3 billion investment, money it does not have but borrowed, into making Chinese JF-17 "Thunder." In a recent report by Pentapostagma, this investment and plane seems to be a blunder and have become a serious liability for the country due to its high Operations and Maintenance cost compared to modern weapons systems. Pakistan believed that the JF-17 would be at par with the Su-30MKI, Mig-29 and Mirage-2000 "equipped with Western avionics and powered by the Russian Klimov RD 93 aero-engine (sic)" but seems to have missed the mark on avionics, weapons, and engine.
S-400 anti-aircraft and anti-missile system
On February 27, 2019, during an attempted retaliatory strike against the Indian Air Force targeting a Pakistani terrorist group, the JF-17 performed poorly against Mirage-2000 and SU-30. Pentapostagma said that its "indigenous Link-17 data link is not only unreliable; it does not have sufficient data transfer rate and can never be integrated with the F-16 fighter's Link-16 to give the aircraft true interoperability capability. The 'Thunder' does not have even an effective BVR or Airborne Interception radar." Although it is touted as being next-best to American F-16s, the report said that "its unremarkable low endurance, poor accuracy and low weapon carrying capability were amply demonstrated" with "all its Range Extension Kit (REK) bombs failing to hit the target in the face of effective jamming and attacks by Indian fighters." The critical part of the JF-17 avionics is the KLJ-7 Al radar and Weapon Mission Management Computer (WMMC) and both faced severe problems.
The KLJ-7 radar shows degraded behaviour and also faces several operational and maintenance problems and the WMMC showed "a high rate of failure of a number of its modules, including the Main Computer module." The "malfunction of the WMMC has caused Launch Zones of Beyond Visual Range air-to-air missiles to shrink during combat exercises. Due to its unreliability, PAC is now attempting to indigenise the WMMCs." The biggest failure in the design of the aircraft seems to be its Russian RD-93 engine, best known for its poor serviceability.
The Chinese JF-17 with the faulty KLJ-7 Al radar
Even the weapons load on the aircraft is not remarkable— "Other than the Chinese SD-10 BVR, REK and C-802AK ant-ship (sic) missile" the aircraft's load capability is best compared to a Mig-21. "It's integral 23 mm Gun initially experienced gun stoppages in the air and now has problems with the 23 mm round bursting. Inter-operability (sic) with other Chinese weapons also seem to be having limited success. Many other associated problems have been identified "Nose Gear Landing shimmies" and "ventral trails" indicating "poor metallurgy or design."
Now, Pakistan seems to be abandoning the JF-17 and gravitating towards the J-10 which is very cheap at USD 25 million apiece. With the Pakistani economy in tatters with its currency depreciating by over 30% last year and no other customers for the JF-17 or JF-10 materials and spares from China will be expensive, even if one assumes that "China can supply these spares."
The Chinese J-10