Boosting Saudi ties while balancing Iran
The India-Saudi relationship has grown leaps and bounds since 2010 transcending transcended from energy dependency to strategic balance. India and Iran share interests in Afghanistan and watch with concern Washington's Doha Accord with the terrorist group Taliban.
Despite many positive developments in the closing part of the US Trump era where Gulf countries have taken a more accepting position on Israel, the region continues to be a minefield for India. The new administration in the USA has made awkward noises on Saudi Arabia about the suspected murder and disappearance of journalist Khashoggi and have escalated tension with Iran with a surprise bombing of Iran-supported rebels in Syria. It has reiterated sanctions on a nuclear bomb aspiring Iran while also looking for ways to extricate its troops from an unstable Afghanistan honourably despite the worsening relationship with Pakistan. Added to this is an ambitious and aggressive Turkey that is cosying up to Pakistan and appearing to be rudely pitching for the leadership of the Muslim world. The Turkey-Pakistan alliance working under the sponsorship and diplomatic and military cover of a belligerent China in such a dangerous neighbourhood make foreign policymaking a very hazardous job.
The India-Saudi Arabian relationship has grown leaps and bounds since 2010 with numerous senior-level visits from both sides. Prime Minister Modi visited Saudi Arabia in 2016 and 2019 and Crown Prince Mohammed bin Salman (MBS) visited New Delhi in 2019. In 2016, Saudi Arabia conferred the highest civilian honour, King Abdulaziz Sash, to Prime Minister Narendra Modi. In the last six years, India-Saudi Arabia relations have transcended from energy dependency to strategic balance. In December 2020, Indian Army General M.M. Navarane visited Saudi Arabia and the United Arab Emirates, the first-ever by an Indian Army chief. Gen Navarane met with top Saudi Army commanders, explored areas for defence cooperation, and exchanged views on military training.
Crown Prince Mohammed bin Salam with President Ram Nath Kovind and Prime Minister Narendra Modi
Coming on the back of rapidly souring Saudi-Pakistan relations with the Pakistani Army Chief refused high-level access and Saudi demanding Pakistan repay its loans immediately, the high-level engagement is seen as a strategic shift by Riyadh. Historically, Saudi Arabia always supported Pakistan for religious affinity more than strategic reasoning. In the 1971 war, it donated scores of aircraft to Pakistan, donated billions of dollars for that country to buy weapons, and transferred the US-made missiles. Saudi financing and oil kept Pakistan afloat unnaturally. In the last two years, Saudi Arabia almost gave free oil to Pakistan with deferred payments. Riyadh always worked against India in the Organisation of Islamic Republics (OIC) on Kashmir issue usually parroting the Pakistani lie of Muslim genocide in that Indian state.
Prime Minister Narendra Modi receiving the King Abdulaziz sash from Saudi Arabia King Salman bin Abdulaziz Al Saud
However, when India abrogated Article 370 on Kashmir in 2020, taking away special rights granted temporarily to that state, Pakistan was shocked to see Saudi Arabia and UAE's comments more nuanced on this move. Riyadh has been slowly moving away from rabidly Islamic elements like Pakistan, Turkey, and Malaysia. Under MBS's stewardship, Saudi Arabia is looking to diversify its economic strengths away from oil and in this effort, it sees India as a strategic partner. Saudi Arabia is India's fourth-largest trading partner after China, the USA, and Japan and imports 18% of its oil from that country. New Delhi decided to stop all oil imports from Iran and shifted its wallet spend to Riyadh. This and many other interactions with Modi government officials have gone well for bilateral ties. On the other hand, Pakistani Prime Minister Imran Khan has destroyed his country's relationship with Riyadh by supporting Ankara's claim to Islamic leadership. Besides, the Pakistani economy is in shambles and has nothing to offer Saudi Arabia except more debt.
Highlighting the stark difference, India's Deputy Chief of Mission in Riyadh, N. Ram Prasad wrote in the Arab News that under Saudi Arabia's "Vision 2030" plans and India's Make in India initiative, "cooperation in the research, development and manufacturing of weapon systems and equipment offers great potential. Of particular interest is collaboration in the fields of shipbuilding, ammunition manufacturing, drone technology, cybersecurity, space, and emerging new technologies." Riyadh recently announced plans to invest more than USD 100B in India and named it as one of the eight Strategic Partner countries.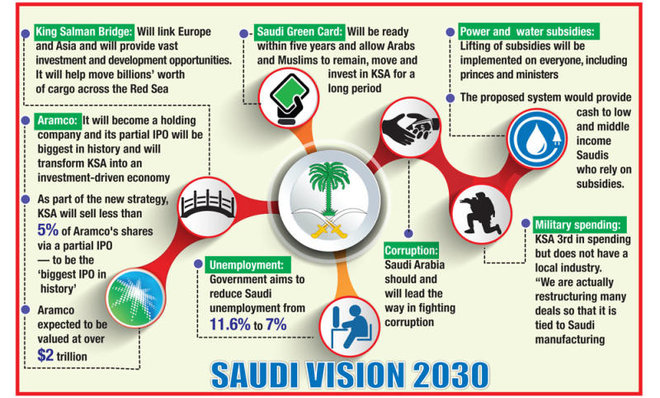 Twitter Inc.
While India has not abandoned its strategic investment in the Chabahar port as key to its access to Afghanistan, it performs a very delicate balance between American sanctions and strategic independence. The Chinese built a port at Gwadar in Pakistan is seen by many even in Pakistan as neo-colonisation. Now with Chabahar port becoming operational, India has started shipping its aid materials to Kabul through this port and the roads built by the Indian Army's Border Road Organisation. Iran also sees a lot of value in using it for its exports. India also gets access to Uzbekistan and Central Asia through this port. India is also keen to leverage its positive relationship with Iran and Russia to use Chabahar port to link with the North-South Transport Corridor (NSTC) to gain access to Russia. This can bring down logistics cost by over 20% since it bypasses Europe and China.
In September 2020, both Indian Defence Minister Rajnath Singh and Foreign Minister S. Jaishankar visited Tehran to discuss trade and regional issues. This was also seen as a measure to counter Beijing's overtures to Tehran to squeeze India at Chabahar. On India's invitation, Iranian Defence Minister, Brigadier General Amir Hatami visited New Delhi for the meeting of defence ministers of the Indian Ocean Region (IOR). During that visit, Tehran explored options to buy military and defence equipment from India.
India is developing the Chabahar port in Iran
India and Iran share interests in Afghanistan and watch with concern Washington's Doha Accord with the terrorist group Taliban. Tehran wants a peaceful nation on its eastern border but does not want to spill terrorism and drug trafficking over from Pakistan supported terrorist groups in Afghanistan. However, in January 2021, a blast was triggered near the Israeli Embassy in New Delhi and Indian counter-terrorism agencies have blamed the Quds Force of the Iranian Revolutionary Guard operating under diplomatic cover. Even though false-flag cyber markers were deliberately left by the perpetrators to implicate the Islamic State, counter-terror experts reject this after looking at the contents of a letter addressed to Israel's ambassador to India Ron Malka. The writing style and exact spellings of those named reveal that the letter was written by an Iranian, and possibly handed over by an agent under diplomatic cover. Unidentified counter-terrorism sources say that "the bomb was not of high intensity, with no human targets in mind was perhaps because the Iranians did not want to run afoul of a friendly nation like India" even though "the message was clear and the threat is real."
The US and Israel have a poor view of Iran. Saudi Arabia is always suspicious of Tehran's bid to lead the Muslim world and also fosters a Sunni-Shia rivalry. However, the real villain in this setup is the opportunistic grouping of China, Turkey, and their henchman Pakistan. Through the "The Interim National Security Guidance" US President Joe Biden declared that China is the only country that can mount a sustained challenge and that the US will support China's neighbours in general and "will deepen our partnership with India" to "hold countries like China to account."
India blames the Quds Force of the Iranian Revolutionary Guard
New Delhi has very good relationships with both Riyadh and Tehran and is looking to keep the focus of their interlocutors in those capitals on this new grouping. Even if these countries could see it, New Delhi has its work cut out while working with turning around the Cold Warriors in Washington. The policy apparatus in the USA is worried about aggressive China, rapidly radicalising Turkey, and nuclear-armed terrorist nation Pakistan but also cannot get around their deep-rooted fear of Iran. It is also being sucked into the alleged murder of a journalist by Saudi Arabia, a story well-articulated by Turkey, and its dependence on Pakistan to get supplies to its troops in Afghanistan. The US planned to pull out its troops in May 2021 but has now concluded that a "durable political settlement" is required to facilitate their pull-out since talks between Kabul and the Taliban on ending a years-long war stalled this year as militant attacks continue unabated.
Washington's Afghan policy remains confused as ever. Its chief US negotiator in Afghan peace talks has been drumming up support for a regional conference on Afghanistan in Istanbul later this month. A letter surfaced in the Afghan media purportedly written by US secretary of state Antony Blinken to Afghan President Ashraf Ghani stating that the US intends to "ask the United Nations to convene foreign ministers and envoys from Russia, China, Pakistan, Iran, India, and the US to discuss a unified approach to supporting peace in Afghanistan" because of his belief that "these countries share an abiding common interest in a stable Afghanistan." The chief negotiator Zalmay Khalilzad has reportedly been advocating forming a transitional government in Afghanistan despite opposition from Afghan President Ashraf Ghani who has been advocating a democratically elected government to take over from him. Khalilzad would visit Qatar, Saudi Arabia, Russia, China, India and Pakistan in a bid to secure support for this ill-fated meeting. The location of the intended conference demonstrates how clueless the American policy establishment is to current developments in the region.
Meanwhile, Afghan Foreign Minister Mohammad Haneef Atmar is expected to visit India later in March 2021 amid a flurry of ongoing international efforts to unblock the Kabul-Taliban peace process in Doha.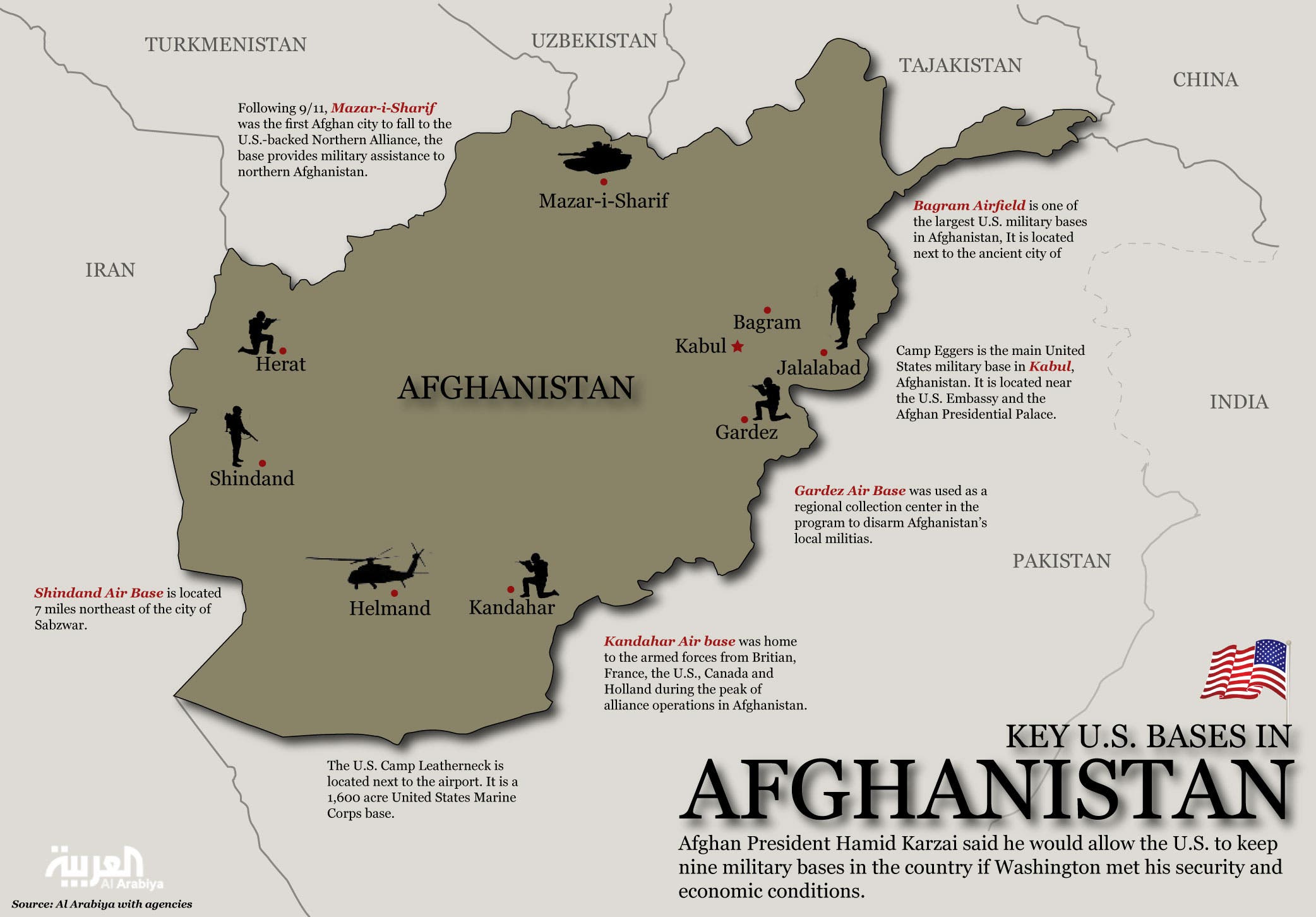 US bases in Afghanistan