India's Act East Policy focuses on water connectivity
India is working with its neighbours Bhutan, Nepal, and Bangladesh to create water-based connectivity for intra-region transport. It has also started developing the 'Eastern Grid' inland waterway - a system to connect South and South East Asia.
India is working with its neighbours Bhutan, Nepal, and Bangladesh to create water-based connectivity for intra-region transport. These projects will boost bilateral trade as well as provide strategic connectivity between the countries. The Government of India (GoI) has started several such programmes including connecting the North East Region with Bangladesh, improving access to North East from Myanmar to facilitate tourism and cross border connectivity, promotion of Land Border Crossing Agreement and Integrated Check Post at Moreh and infrastructure projects like India-Myanmar-Thailand trilateral highway, Kaladan Multi-Modal Transit Transport Project (KMMTTP) in Myanmar.
India has also started developing the 'Eastern Grid' inland waterway - a system of multi-modally interconnected waterways and coastal routes to kickstart regional integration in the South Asian Region (SAR) and to facilitate regional trade between South and East Asia. India's Act East policy focuses on eastern maritime neighbours, especially the 10 nation ASEAN and island territories with a large Indian diaspora. Chairperson of the Inland Waterways Authority of India (IWAI) Amita Prasad said that the initiative is exploring cruising activity to offer cultural connectivity with these countries and also offers business opportunities for navigational aids, terminal development, etc.. There are 19 National Waterways (NWs) providing hinterland connectivity to the states of Assam, Nagaland, Tripura, Manipur, Mizoram and Arunachal Pradesh. Recently, India disbursed US$1.04 billion in grant projects besides concessional loans of US$478.9 million including US$750 million to Myanmar. Bangladesh has been the largest recipient of Lines of Credit (LOC) funds valued at more than US$8 billion.
India's National Waterway-1
Speaking at an event in Assam on February 15, 2021, on closer India-Japan partnership, India's External Affairs Minister (EAM) S Jaishankar said that "Although India's Act East Policy started in 1991 to deal with balance of payments crisis," "the Modi (Prime Minister Narendra Modi) Government actually took this initiative to a much higher level" to include "connectivity projects and activities, as well as economic flows and strategic cooperation." Emphasising that "India-Japan collaboration has always had a central place in our national modernization and development efforts" he highlighted that "Japanese Official Development Assistance has funded roads, rail, urbanization and energy" "Across our states and cities." He cited the examples of "flagship projects include the Delhi-Mumbai Industrial Corridor and dedicated freight corridors to the east and the west." While "Maruti-Suzuki cars" "transformed Indian lifestyle four decades ago," the "bullet train project from Ahmedabad to Mumbai holds a similar significance." As the government "made it easier to do business in India, Japanese foreign direct investment has also increased and is supporting development assistance in a much more robust manner."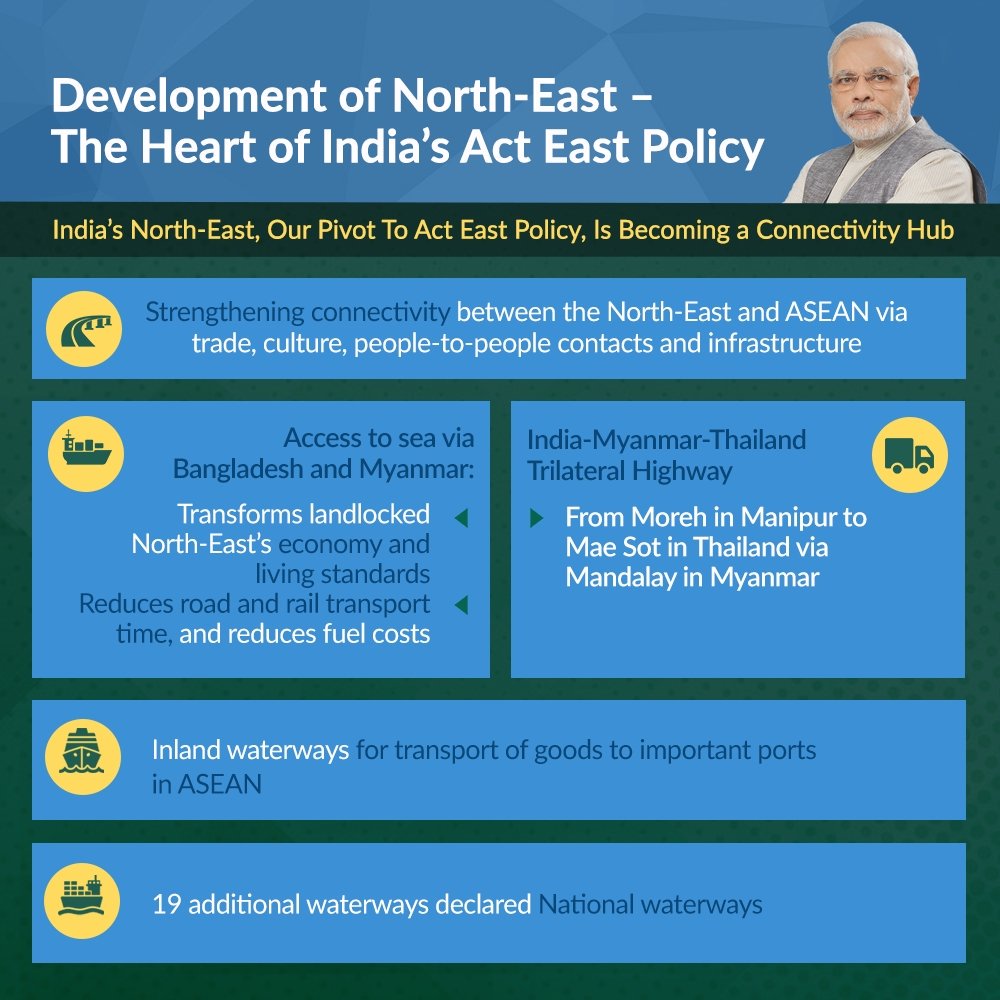 Heart of Act East Policy
This economic relationship has now transformed into strategic cooperation drawn from "a common belief in democracy, in pluralism, in an open society." "The security ties are based on a shared commitment to a peaceful, open, stable and rule-based order in the Indo-Pacific and beyond." "Within a decade, the India-Japan partnership is today seen in Asia, perhaps the world, as one of the most natural and close." He pointed out that "the awarding of the Padma Vibhushan to former Prime Minister Shinzo Abe on 26 January was symbolic of the journey."
India and Japan recently signed an agreement for Specified Skilled Workers to cover "fourteen trades" including "fisheries; agriculture; food services; food & beverage manufacturing; lodging; aviation; auto maintenance; ship-building and ship-related industry; construction; electric & electronic information; industrial machinery manufacturing; material processing and building cleaning." Japan is also partnering with India in building the 20 km, a four-lane bridge between Dhubri in Assam and Phulbari in Meghalaya. Besides the North East, Tokyo has undertaken a number of connectivity initiatives in India, including mega projects like the Mumbai-Ahmedabad High-Speed Rail, the Western Dedicated Freight Corridor (DFC), the Delhi-Mumbai Industrial Corridor, the Chennai-Bengaluru Industrial Corridor (CBIC).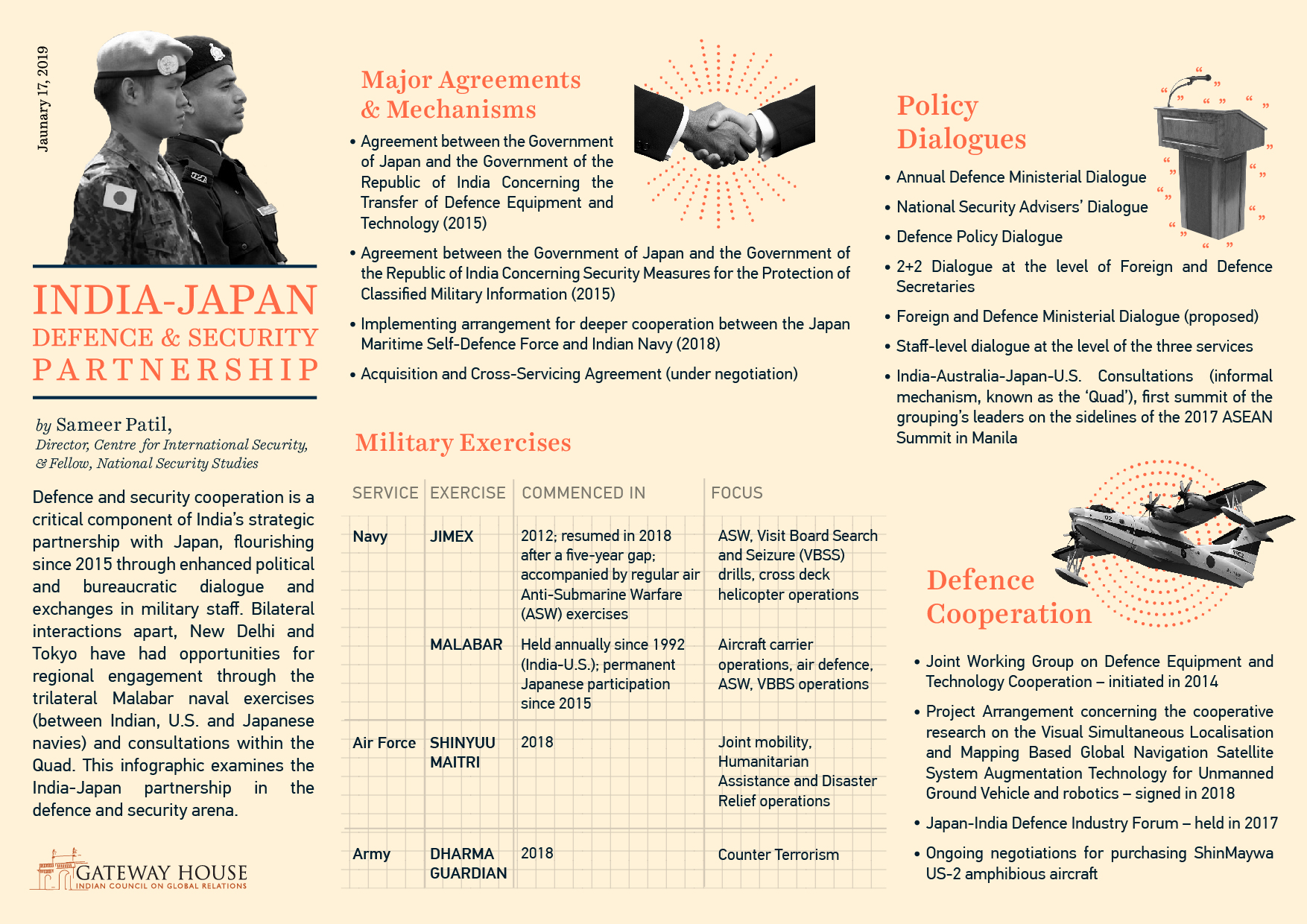 India-Japan Defence and Security Partnership
According to the Bay of Bengal Initiative for Multi-Sectoral Technical and Economic Cooperation (BIMSTEC) masterplan, India is planning transport connectivity through 264 projects including the India-Myanmar-Thailand Trilateral Highway, with an aim to expand it to Vietnam via Laos and The KMMTTP will provide North East access via Sittwe Project and the Paletwa Inland Water Terminal. The aim is to provide connectivity from the Arabian Sea (the Sindhu Sagar) to the South-East China Sea. Jaishankar pointed out that Assam is becoming a "major player" in producing refined petroleum products and said that "a pipeline to supply Bangladesh high-speed diesel is an important beginning". India and Nepal recently opened a cross country oil pipeline, the first such pipeline in South Asia. India's Act East Policy has great convergence with Japan's Free and Open Indo-Pacific (FOIP or Indo-Pacific Oceans Initiative called IPOI) doctrine.
Between Japan International Cooperation Agency (JICA) and the Japan External Trade Organisation, the Asian giant has built 12 Japanese industrial towns in India, with the 13th one coming up in Nagarbera in Assam, for which the state government has already acquired land. Notably, Japan has helped in developing numerous other projects in Assam including the Dhubri-Phulbari bridge and the Guwahati Sewerage project. Japan's ambassador to India, Satoshi Suzuki said that Japan sees Assam as a "critical" state for the convergence of India' Act East and Japan's FOIP policies and that is why his country is "supporting various connectivity projects in this state."
Bay of Bengal Initiative for Multi-Sectoral Technical and Economic Cooperation (BIMSTEC) masterplan
While the North East itself does not have direct sea access, India and Japan are upgrading highways to link them to Bangladesh. Early March 2021, Modi inaugurated the "Maitri Sethu" over the Feni River linking Indian state Tripura and Bangladesh. The 1.9-kilometre bridge links Sabroom in south Tripura with Ramgarh in Bangladesh which is just about 80 kilometres from the Chittagong port. With this connectivity, With this connection, Tripura is fast earning the tag as the "Gateway of North East." Suzuki said that the IPOI sees "the Indo-Pacific maritime domain" as a "source of growth and prosperity, so better access to these Oceans is vital for the improvement of people's lives." In this example, India is building the road and Japan eight bridges. India and Japan are already building a 20-kilometre four-lane bridge between Dhubri in Assam and Phulbari in Meghalaya. These connectivity projects bring the North East closer to ASEAN countries. While this builds well into India's Act East policy to provide reliable and robust infrastructure, India is also increasing demand through Lines of Credit worth USD 31B to more than 64 countries since 2005.
Earlier in January 2021 at a different event, Foreign Secretary Harsh Vardhan Shringla had pointed out that India's Security and Growth for all in the Region (SAGAR) vision converges well with Japan's FOIP doctrine and that their bilateral relationship is "is crucial to the Indo-Pacific architecture." He said that "India and Japan frequently find themselves working together" on "enhancing maritime security, connectivity for shared economic prosperity, or increasing resilience to meet natural disasters through HADR (high availability disaster recovery) efforts."
India and Japan also have another common motive— to deal with a belligerent and aggressive China. While China is encroaching on perceived Indian space in Ladhak, Sikkim, and Arunachal Pradesh, it is also stopping the free passage of trade routes in the South China Sea and also trying to occupy Japan's Senkaku Islands. The two nations are also attempting to diversify and fix global supply chains.
India's Security and Growth for all in the Region (SAGAR) vision